"There are moments that keep themselves in our memories" for Ernestine Saankalaxt' Hayes
words from her book, The Tao of Raven
8" x 3"
Found postcard, photographs, silver leaf, gauze, and encaustic on scrap metal
"There are moments that keep themselves in our memories: unexpected flashpoints of meaning we don't even recognize until the years, loves, worries have tempered the cloudy chatter of everyday concerns and have left only the brightest flashes: permanent, unchanging images that will most conspicuously blaze at the final, brilliant moment when our lives are said to pass before our dimming eyes," page 23.
How do we decide what to hold on to, or is it even our decision to make?
"With it, we are joined, and continue" for Joan Naviyuk Kane
words from her poem, "Anchorage," in The Cormorant Hunter's Wife
8" x 10"
Photographs, silver leaf, blueberry-dyed gauze, fish leather, and encaustic on scrap metal
While at the University of Alaska-Fairbanks, I attended a reading by Joan. I hadn't heard of her or her work. As she began to speak, the room fell silent; her presence and voice demanded all attention, her inflections and tone were haunting. I don't remember which poems she read that day, but when I read "Anchorage," I felt a similar presence.
*This piece is a part of the All-Alaska Biennial exhibition at the Anchorage Museum, and is traveling across the state through 2020.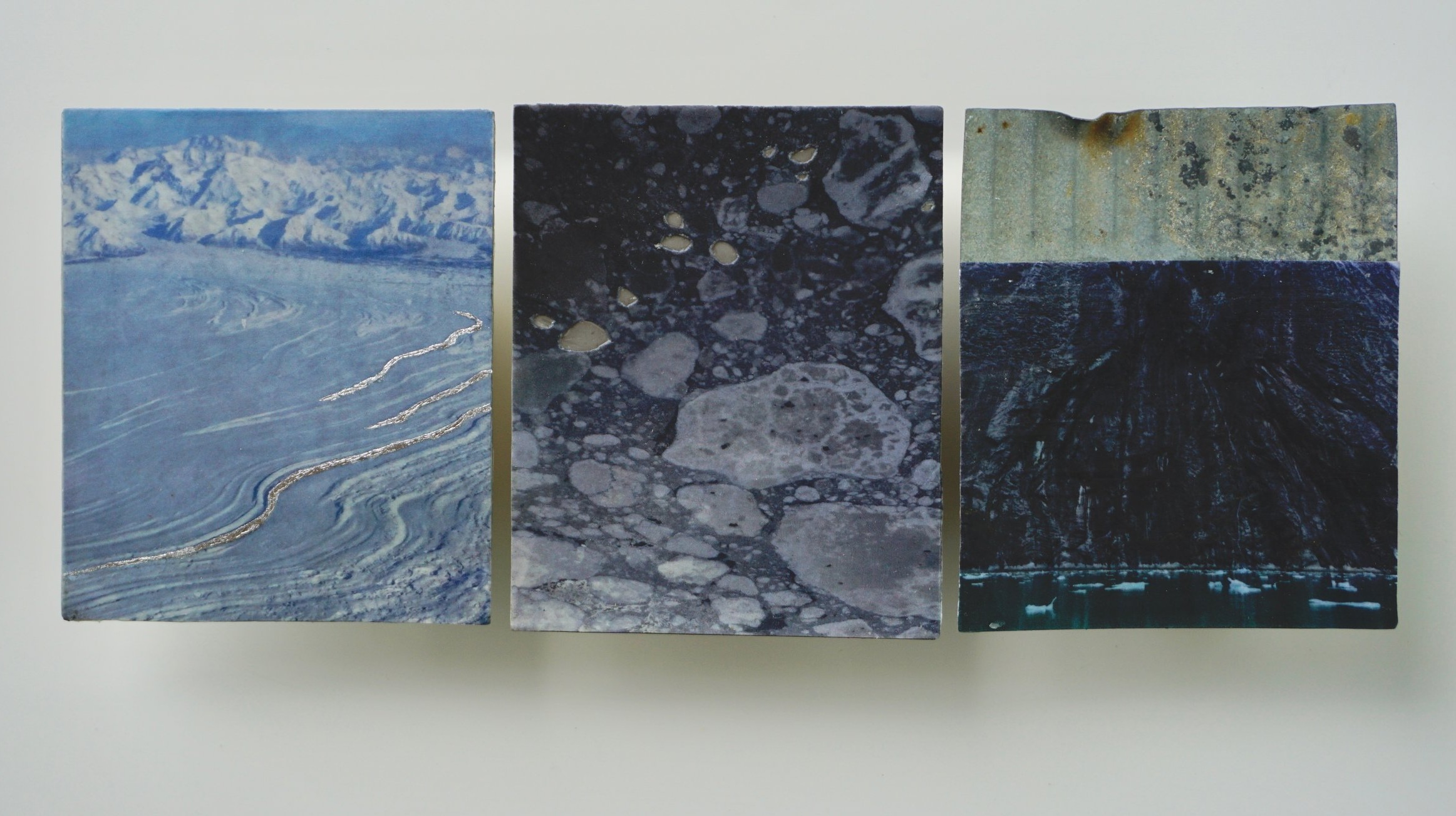 "The relationship is falling apart" for Yereth Rosen
words from her news story, "Big melt season in the Chukchi and Beaufort seas affect animals, people and the weather ahead," published September 11, 2017 for Anchorage Daily News.
8" x 3"
Photographs, silver leaf, and wax on scrap metal stovepipe
A pattern started to show itself from news stories I've read, re-read, and take notes on; they were all written by the same person. I've found myself seeking out Yereth's climate change coverage, as she seems to be the most consistent reporter addressing climate change throughout the state. You, too, can read and find her latest reporting at Arctic Today.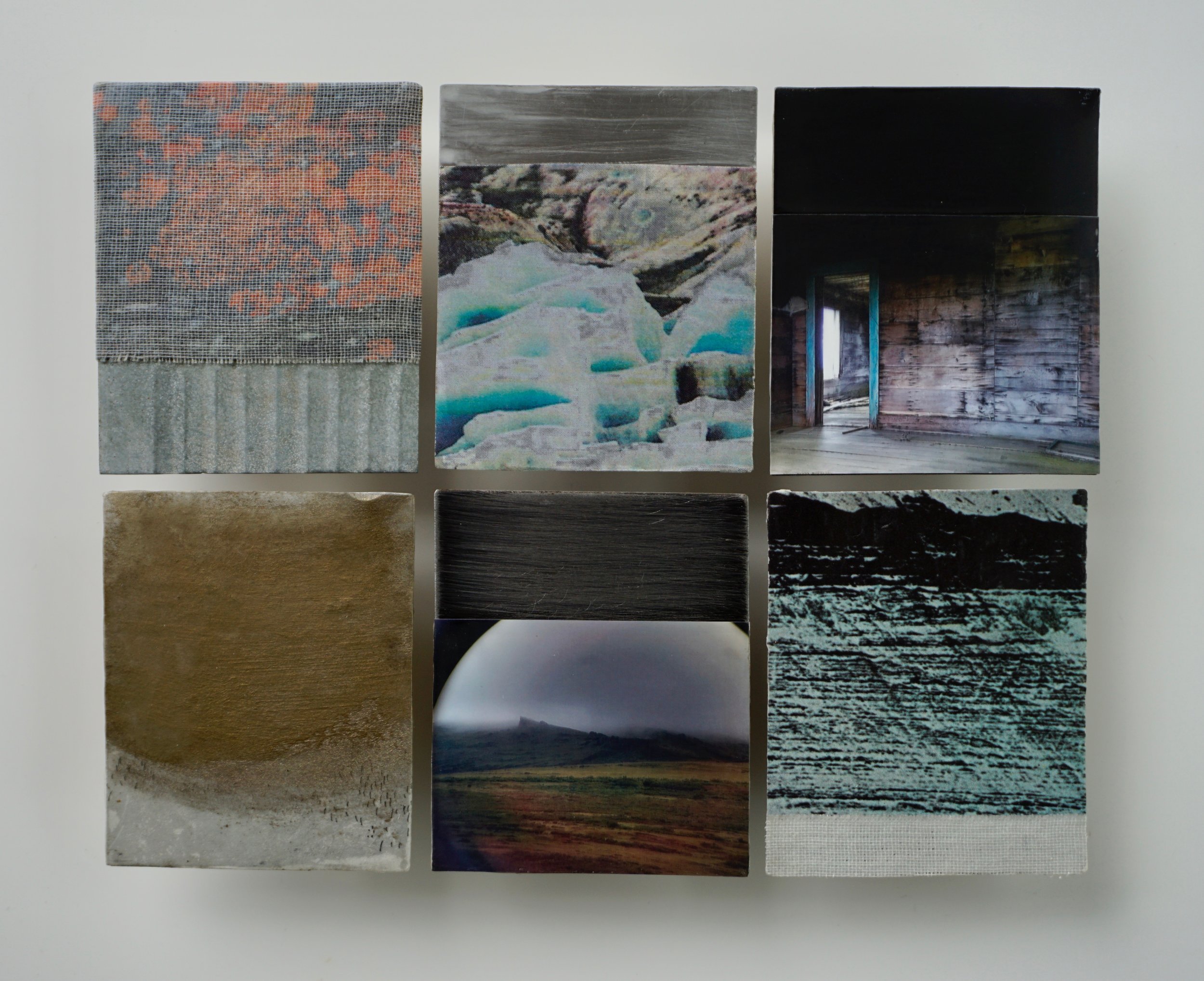 "We have nowhere else" for Laureli Ivanhoff
for her essay, "The Bearded Seal My Son May Never Hunt"
8" x 6"
Photographs, gauze, fake gold dust, ink, tissue paper, and wax on scrap metal stovepipe
"I had always thought the cold was necessary for the ways we relate to this earth."
"I had always thought the cold was necessary for the ways we relate to this earth."
When so much is at stake with how we navigate and understand the world around us, I was immediately drawn in by Laureli's words of alarm through stories of her family traditions. Raising a child who may never have the chance to experience the culture he belongs to is heartbreaking and real and happening to mothers around the world. Will we learn fast enough to adapt? And what parts of our own identity and culture will we have to give up? How will cultures identify themselves when the very food and land that ties them to place disappears?
"The Bearded Seal My Son May Never Hunt," The New York Times, 2018
"The land pulls [us] apart" for Joan Naviyuk Kane
words inspired by her book, Milk Black Carbon
8" x 3"
Photographs, silver leaf, ink, gauze, and encaustic on scrap metal
Over the course of making Landfalls, I kept circling back to Joan's words, "…we are the both of us buried," from her poem, "Glare in Blue," in Milk Black Carbon, a book of guidance for grief in trying times. The title of this piece is a reflection on how difficult it is to speak of loss and displacement, and to witness a place change and disappear.
"Acidification" for Nancy Lord
for her book, pH
8" x 3"
Photographs, pencil, silver leaf, ink, and encaustic on scrap metal
A few years ago, I researched and made a series of work based on phytoplankton and ocean acidification. When I heard about Nancy's new novel, pH, I was very excited to see these issues come to life in such an accessible way. Her attention to detail and ability to break down oceanography and the affects of acidification came to life with a seriousness not overshadowed by her fictitious characters.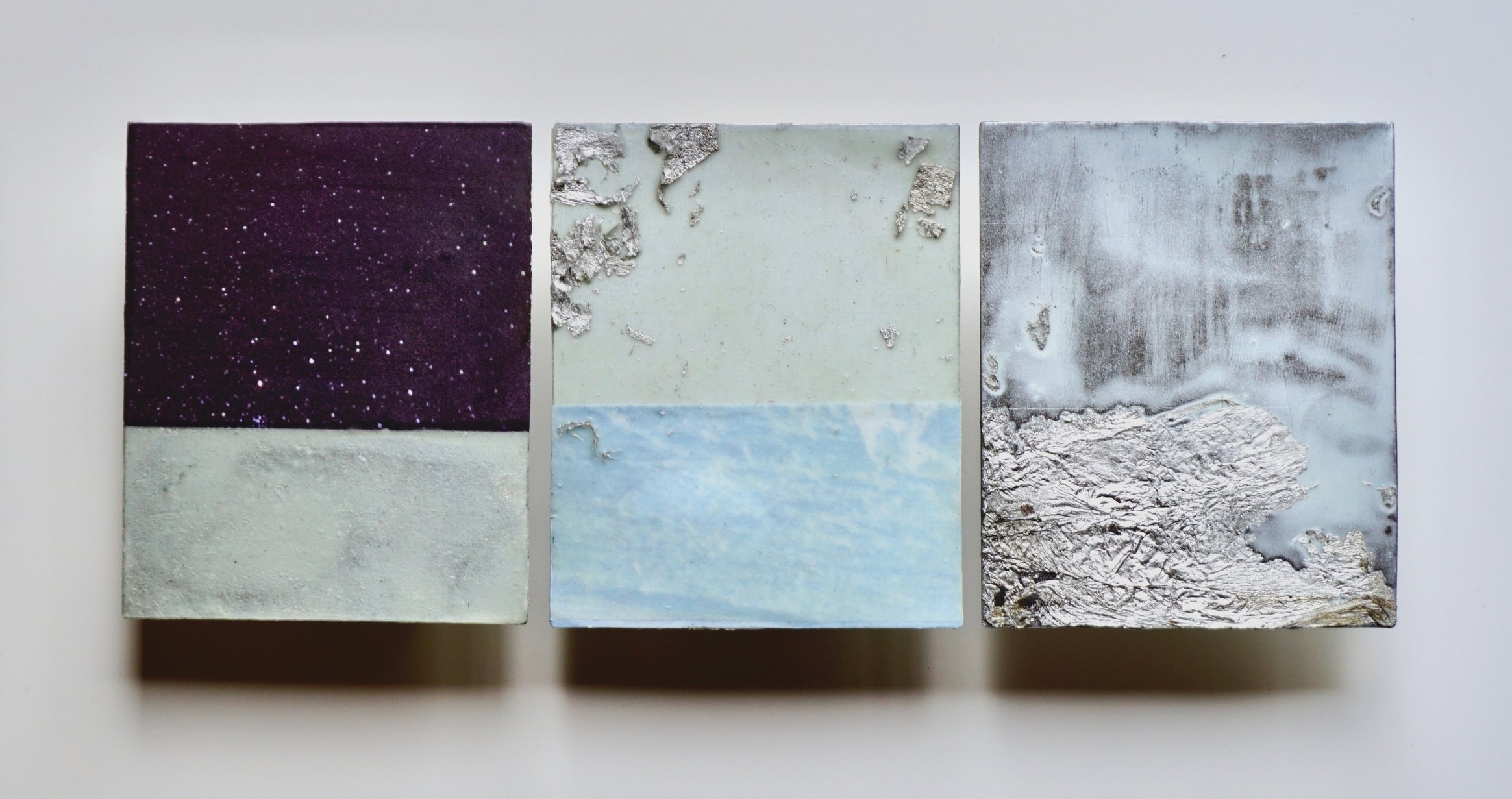 "How will they survive now?" for Velma Wallis
words from her book, Two Old Women
8" x 3"
Photographs, found burnt tea bag wrapper, and encaustic on scrap metal
"The starkness of the primitive land seemed to demand it, as the people, to survive, were forced to imitate some of the ways of animals," page 5.
During my winter residency in Denali, I brought Two Old Women with me to reread while staying in the Savage Cabin. I read the book in one day; it was -20, the fire crackling, I had plenty of food and a government issued sub-zero sleeping bag. Everything felt so surreal and comfortable in contrast to the mental and physical struggle endured in this book. I kept wondering how Sa' and Ch'idzigyaak would survive our new patterns and winter fluctuations.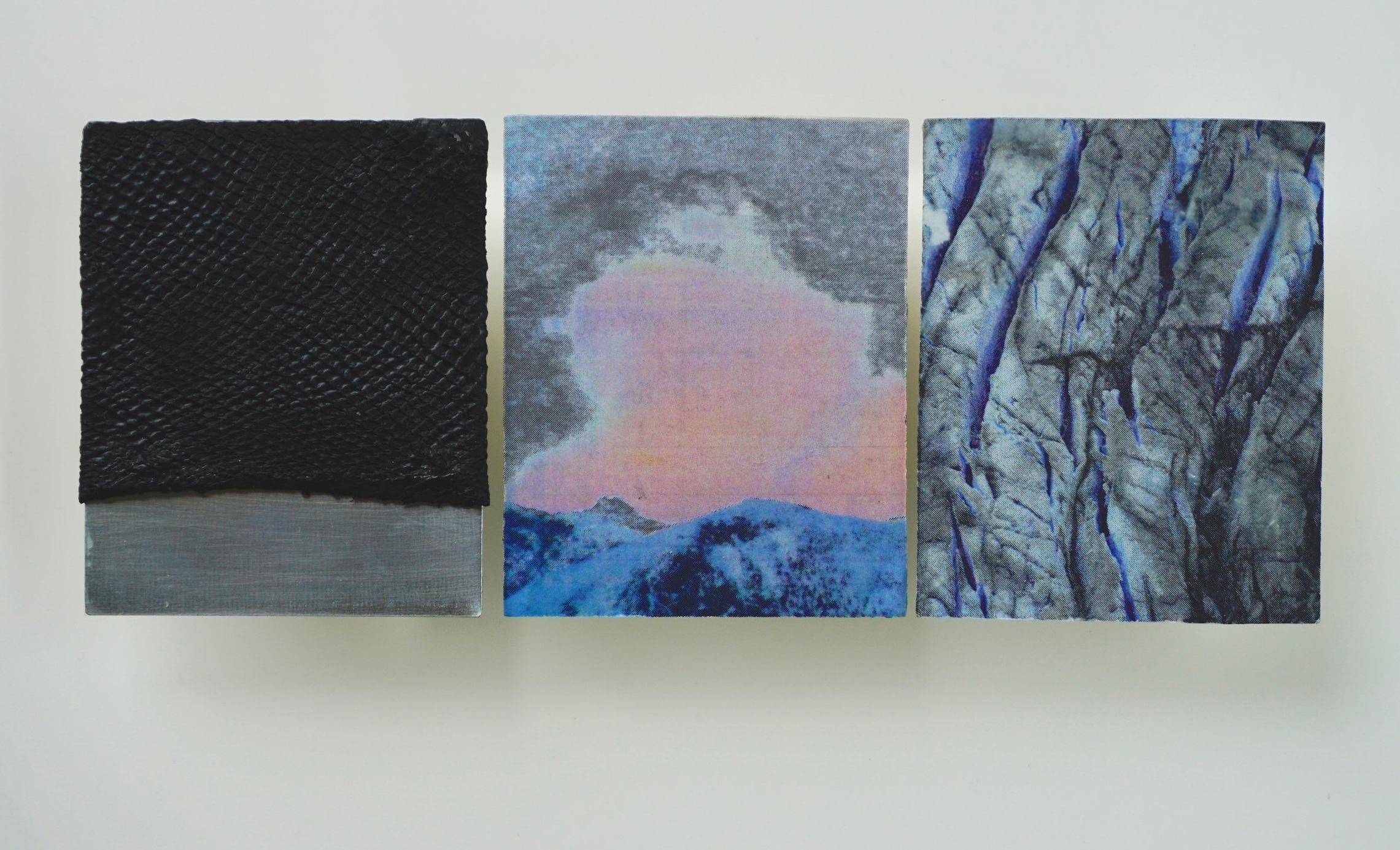 "When the glacier turned them into owls" for Anna Nelson Harry, one of the last fluent Eyak Speakers
words for her story, "Two Sisters," transcribed and editied by Michael Kraus for In Honor of Eyak: The Art of Anna Nelson Harry
8" x 3"
Fish leather, photograph, photo transfer, and wax on scrap metal
"Yes,
why is it I alone,
just I alone have survived?
I survive."
(Recorded on tape, Yakutat, June 15, 1972)
Anna lived on the brink of watching her people, her culture, and her language disappear. She was an Eyak of the Copper River Delta.
The urgency in Anna's story, "Two Sisters," transcribed in the footnotes by Michael Kraus who recorded Anna's stories for over two decades, helps a reader learn how to read a story rather than only listen, giving the reader the tools to imagine how it may sound, and how Anna may have felt in sharing words of memory and loss.
"Two Sisters," as transcribed and edited by Michael Kraus for In Honor of Eyak: The Art of Anna Nelson Harry, 1982
"The weight of us" for Vivian Faith Prescott
words from her poem, "Bihci – Rime (frost)"
8" x 3"
Photographs, ink, silver leaf, blueberry-dyed silver leaf, and encaustic on scrap metal
"I want to say to you—you are still here
still beloved, still living,
because my father eats with the edge of this knife."
Two years ago, I was a part of a conservation cruise on a small wooden boat based out of Glacier Bay. We were tasked with discussing and documenting how climate change, transboundary mining, and fisheries management are affecting residents along the coastal waters of the Inside Passage. Vivian learned of our itinerary and reached out to connect. We met outside of Chief Shakes Tribal House in Wrangell, where she gave us a private poetry reading and discussed changes in her local landscape. Though she didn't read the poem this piece is dedicated to, it holds equal weight to the depth of her concerns and connections to family and place.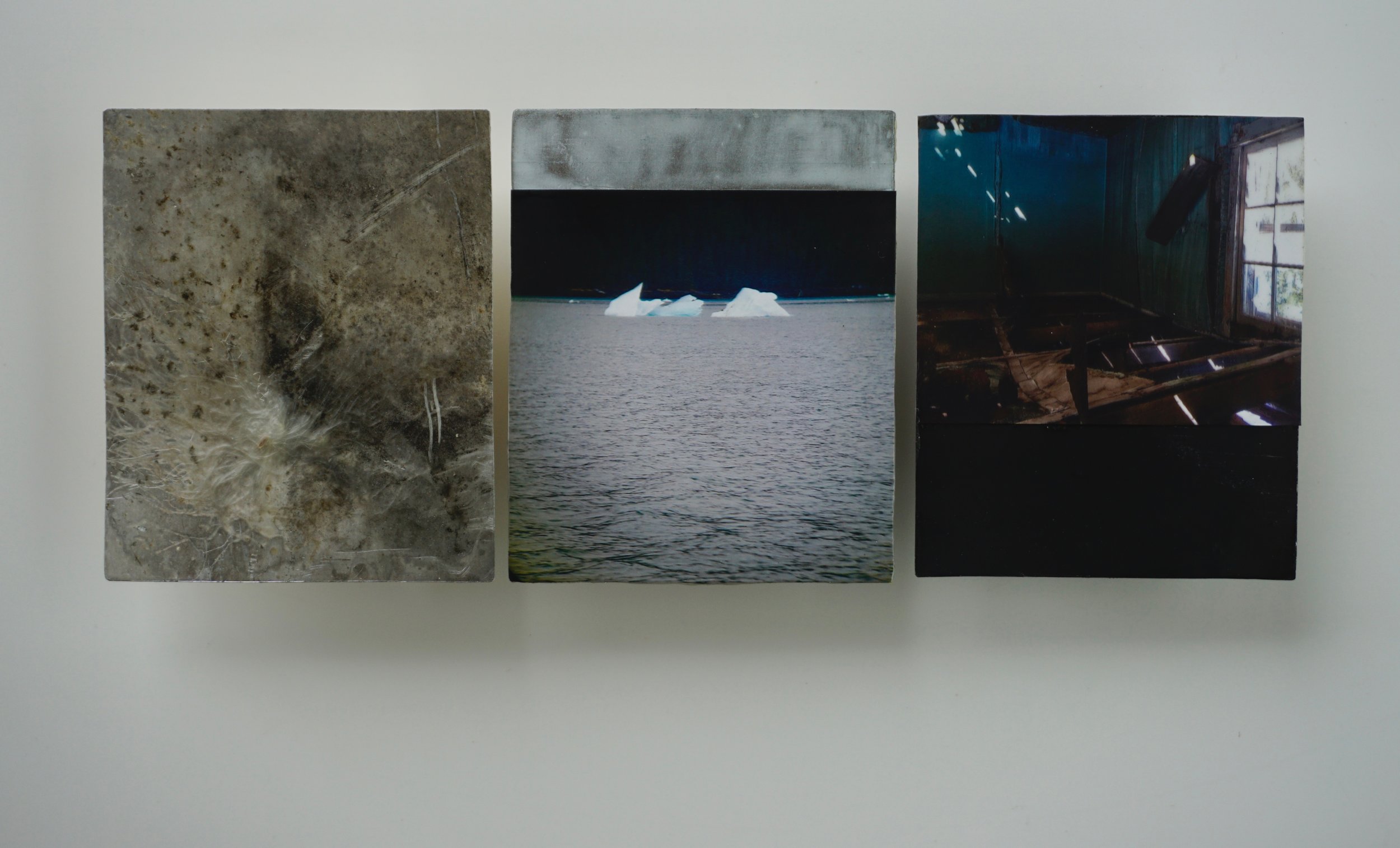 "How do I accept the reality of the word extinction?" for Eva Saulitis
words from her book, Into Great Silence: A Memoir of Discovery and Loss among Vanishing Orcas
8" x 3"
Arctic cotton seed, photographs, and wax on scrap metal stove pipe
Eva's words have a way of stopping time; in the case of her lament for a vanishing orca pod, the reader wants nothing more than for the place, and its creatures to endure. Surviving the Exxon Valdez oil spill is a major feat all on its own, to survive cancer or climate change could be compared, but the statistics and predictions are foreign, a language we do not understand and are slowly learning. Eva spoke beautifully of the power of language, the necessity and vitality of it, whether through sound, body language, tone, inflections, and our silences.
When someone or something becomes extinct, we lose their specific language, be it a sub-group of transient orcas in the Prince William Sound, a secluded native group on a wild and remote section of the Alaskan coast, or a person who used her voice to the best of her ability while she graced the planet with her presence.
"Before Water" for Eva Saulitis
words inspired by her book, Becoming Earth
8"x 6"
Blueberry-dyed gauze, silver leaf, ink, tissue paper, photographs, and encaustic on scrap metal
"People shaped holes, dogs, cats, an aunt, ... There's a big hole shaped like the Exxon Valdez oil spill, made up of thousands of holes the animals left when they died. The only way to be changed is to let another being (or place) completely in, to love with a wild, dangerous abandon, knowing the outline of the hole it will make is already being formed. It will hurt like hell later, but you let it come closer," page 110.
Becoming Earth brought comfort to the sorrows of paying attention and being human. I'm eternally grateful to know of Eva's work, writing, and existence.
"Ambient Noise" for Vivian Faith Prescott
words from her poem, "Indicators"
8" x 3"
Photographs, ink, blueberry-dyed gauze, gauze, and encaustic on scrap metal
"There is mention of ambient noise,
how seals hide from killer whales
among the pop and burst of a melting glacier.
There are arguments concerning how high
we live above the present sea, how our tidal days
are spent with irregular fluctuations.
Old folks comment how the winter sky
has faded into a dull blue smoke."
"Indicators," Shelia-Na-Gig, Spring 2018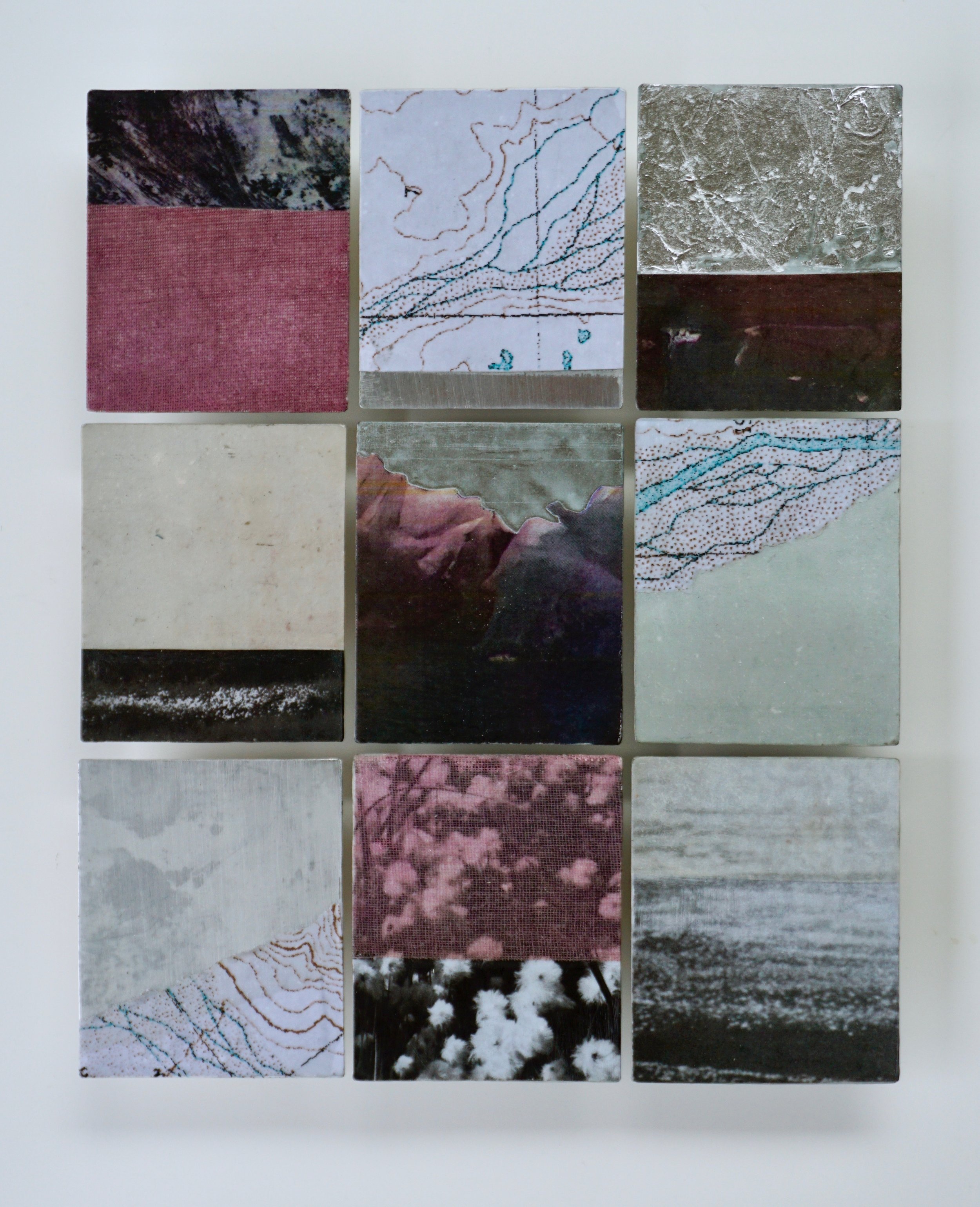 "Wetland" for Christine Byl
for her essay, "Crane, Water, Change: A Migratory Essay," for Denali Climate Anthology
8" x 10"
Photographs, blueberry-dyed gauze, found maps of Denali, silver leaf, and encaustic on scrap metal
"I love the way language invites polarities onto a tongue. A word connects the eater and the eaten, a berry connects the Athabaskan and the European, a bird connects a berry to a mother tongue. Cranberry and crane's call are woven in with boggy sphagnum, the wetland that supports them both, where one grows and the other feeds. These are my autumn treasures, a taste and a sound bound up in a stew of wetness and coming cold. The bustle of motion—fly, pick—and the promise of winter's stillness to come."
I came across audio of Christine reading excerpts of her essay while researching how Denali National Park & Preserve is responding to climate change. Her words resonated with observation, attention, and patience for the subtleness of place.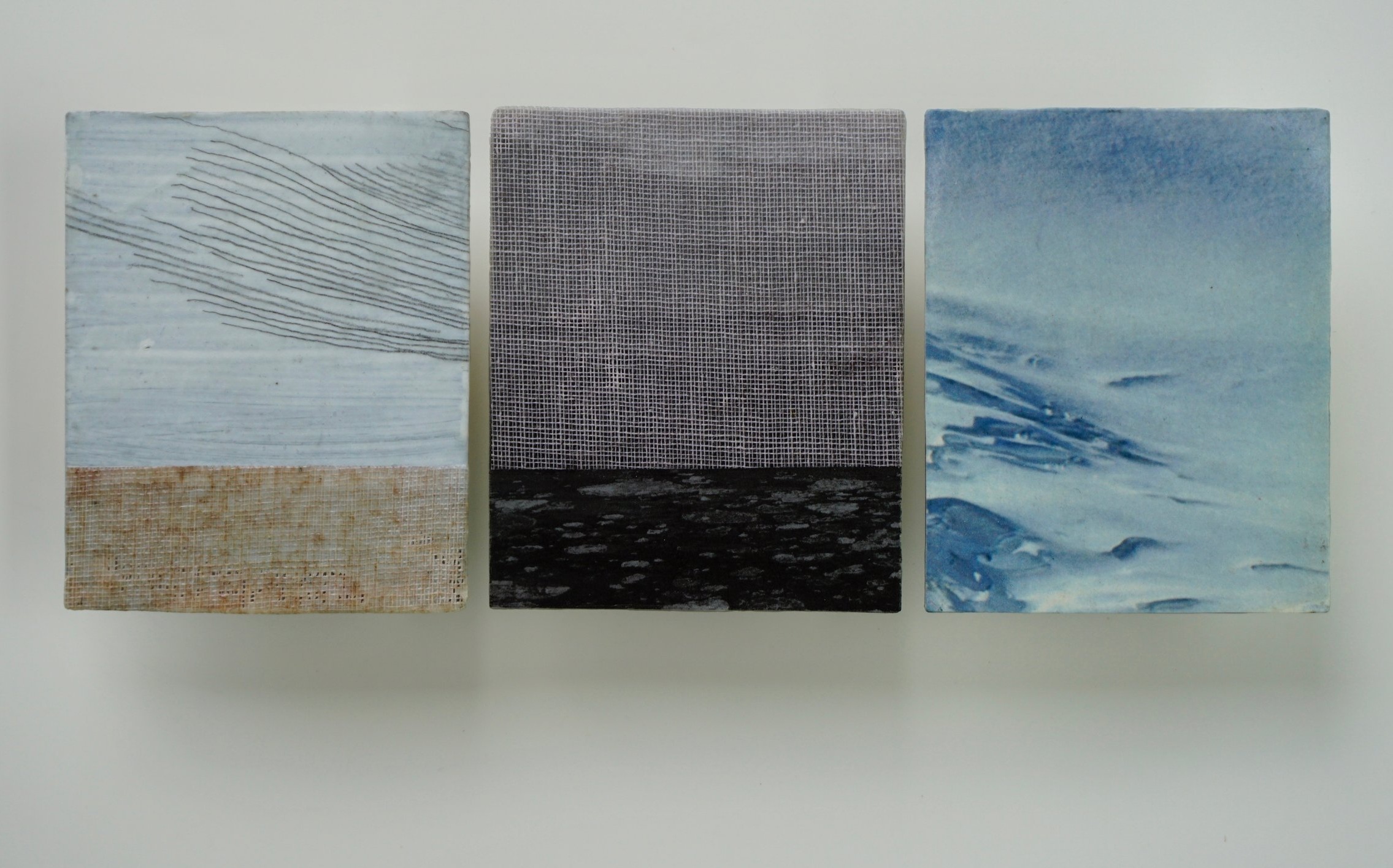 "Between land and ice" for Susie Silook
words inspired by her Memoir as Drama, "Ungipamsuuka: My Story"
8" x 3"
Photographs, WWII military bandage, pencil, blueberry-dyed gauze, and encaustic on scrap metal
"Susie: (Addressing the audience.) I am a woman. I have been a chaste woman. A wanton woman. A loving woman. A cruel woman. (Pause) I trace my ancestry to the earth. And her brown roots are the vessels of my heart. (Pause) I have staggered past you. Swaggered past you. Marched in beauty past you. And slid past you in the blood. (Pause) I am a woman. And like Maya, I still rise. (Pause) As a daughter I stand loved. (Pause) As a mother I stand proud."
While reading Susie's story, I lost all sense time and felt transported into her worlds: the edge of St. Lawrence Island, the dark rooms and side streets that no one wants to speak of, see, or remember. The title of this piece is for spaces such as these, as well as a physical place for healing.
"Ungipamsuuka: My Story," Alaska Quarterly Review, Vol. 28, 2011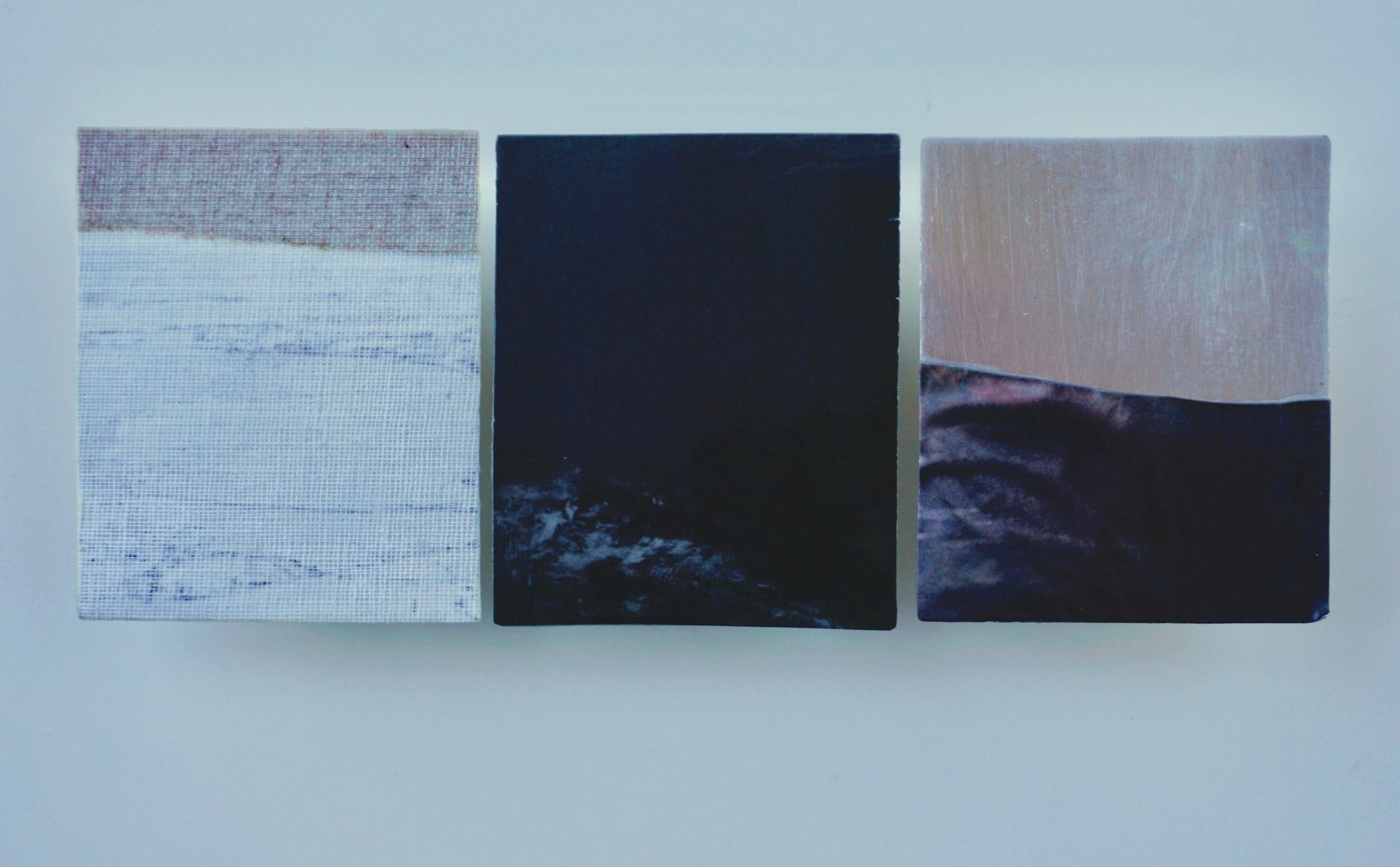 "Unfurling winter bones" for Kersten Christianson
words from her poem, "9:05 and the Sun," in Something Yet to be Named
8" x 3"
Photographs and encaustic on scrap metal
From across the room, I felt the raw tenderness of grief tremble as Kersten began to speak during her Alderworks Residency reading. We never fully recover from the loss of a loved one, but we can rise and share and help others see light in darkness.
"Sewn" for Heather Lende
8" x 3"
Foamflower, ink, tissue paper, gauze, and encaustic on scrap metal
This piece is for no particular written work or book by Heather. This is for her as a whole: for her activism, civic duty, and passion for the place we call home. May we all aim to find the good.
"All around me, the world heaves" for Krista Christensen
words from her essay, "World, Heaving"
8" x 3"
Found images, silver leaf, blueberry-dyed gauze, and encaustic on scrap metal
"See how they speckle the land, all these punctures, these wounds in the earth. Out of them spill valuables, costly treasures that she surrenders, and after, when the earth is spent, when the hole has been thoroughly routed, she is abandoned. Where the pounding and thrusting and drilling and excavating took place, only the empty shaft is left, a window into this unstable, shifting ground, a gap in land that thaws and refreezes violently, uprooting trees and buckling roadways and crumbling foundations—a land literally heaving."
I met Krista last winter in Denali. We were there for the residency program. Though our time in the park only overlapped briefly, I was immediately taken by Krista's ability to move through a landscape with words. She's not afraid to tell you how she's really doing, how society at large is affecting her daily life, how hard she works to teach current events to her students.
"World Heaving," Booth, Butler University, 2018
"The glaciers waiting, planning capitulation" for Ernestine Saankalaxt' Hayes
words from her book, Blonde Indian
8" x 3"
Photographs, pencil, silver leaf, tissue paper, and wax on scrap metal from a stovepipe and washing machine
"The glacier is still. It bides its own time and keeps its own secrets. The ocean moves as it always has. On the other side of the water, mountains fall behind mountains and islands falls behind island."
Since first reading Blonde Indian, I've returned to it over and over again for guidance. Ernestine's words require all our attention, as a way to honor her, her history, her way of life, and to move forward with these honorings—by stepping back to notice layers of our own histories that become secrets, buried in layers of sediment.
"To be taken in" for Margaret E. Murie
words from her activism
8" x 3"
Photographs, gauze, and wax on scrap metal
"Beauty is a resource in and of itself. Alaska must be allowed to be Alaska, that is her greatest economy. I hope the United States of America is not so rich that she can afford to let these wildernesses pass by—or so poor she cannot afford to keep them." Mardy had an unfettered ability to humbly move through a landscape and then turn her experiences into advocacy.
…
Landfalls: Dedications to Alaskan Women Writers and Storytellers
"I grieve the flesh-and-blood other. We are dependent. We can't be sufficient only with ourselves, no matter how fully realized all our aspects." Becoming Earth, by Eva Saulitis
How do we know, relate to, and narrate the complexities of living in the North? What words resonate with us when we talk, hear, or read about the place we call home? What sparks us to learn more, change our behavior, and show empathy towards a place and its people? These questions are loaded, complicated, and full of an emotional history of being connected, and disconnected, with a landscape.

Landfalls began as an immediate response to Becoming Earth, by Eva Saulitis. I've never had such a visceral reaction to a book; Eva's words extracted sentiments I could only express visually. This, in turn, conjured difficult answers for questions I hadn't realized I was asking. In reading and listening to the words of Alaskan women, I found nuance of memory and a history of gender roles, obligations, observations, appropriations, and dark shadows carried through generations. Woven into the lines of these selected works are stories of love, loss, grief, remembrance, and survival: of kindness, compassion, and a fierce devotion to the communities that make up our homes.
As a forager of words and materials, I layer encaustic wax, a mixture of beeswax with tree resin, with silver leaf, tissue paper, line drawings, photographs, found objects, and blueberry-dyed paper and medical gauze on top of hand-cut scrap metal. These layers symbolize the ephemerality of a rapidly changing Alaskan landscape. Ice is melting under our feet, our rivers have fewer salmon returning, oceans are becoming so acidic they dissolve the calcium carbonate shells of plankton, the basis of our entire marine food chain. Yet, Alaskans are rising up, pushing back, and seeking answers and solutions for hard to digest truths. These works are dedications to women who have helped shape my understanding of the physical, mental, and literary landscape that is as broad as Alaska is in size. This series will continue to grow and unfold as I read and listen. I hope this work inspires you to pick up a book, read a poem, and find solace and solidarity within the words.
© Katie Ione Craney